The BAOC-Project (engl.): Telescopes for Cameroon
Dear Reader, due to the dramatic circumstances in northwest Cameroon, were separatists try to detach the english spoken part of the country from the frankophone majority, the BAOC - project is currently on hold. Due to the fights and the intervention of cameroonian military forces, the situation at and around the desired BAOC location is fully obscure. As we cannot predict, if or when the circumstances may normalize again, we currently gotta stop BAOC. To find a new location will be difficult, as we've gotta look in the equator region for high places to built an observatory. This is an effect of low hanging clouds, that are typical for the weather in tropical mountain rain forests. The higher we can get, the chance for clear skies increases. A view mountains near the city of Bamenda provide an ideal combination of location, reachability, height and summit plateaus. We'll keep you updated!
BAOC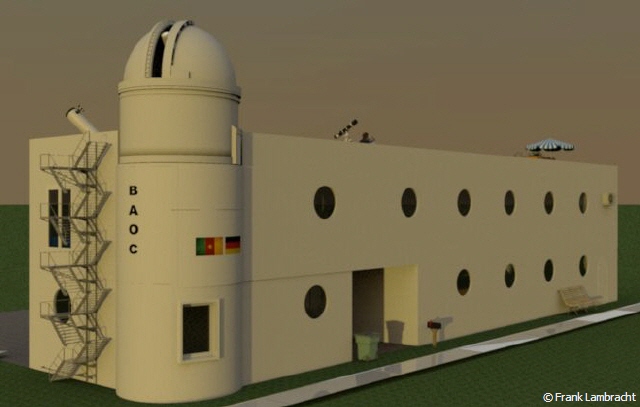 I have a dream!

Not like Martin Luther King, my dream is definitely smaller. But just like Mr. Kings dream, my idea has got a good chance to come true one day.

In my dream I see a mountain top in Africa, in Cameroon to be more specific. It's located not too far from the city of Bamenda in the North-West district. The N6-motorway to Bafoussam is near and we are on 2.270 m above sea level at 5°52'35.17"N, 10°11'11.59"E. Not too far from the equator and a bit east of the Greenwich meridian.

No dream, no project you might think, just a position on a map.

And the most favourite place to host the Bamenda Astronomical Observation Centre!

Okay, let's start with the story at it's beginnings:

My wife and due to her, the major part of my family is cameroonian. While we live in Germany, our people are located in Yaounde, Douala and Bamenda. From time to time we spent our holidays in this charming part of Central Africa and of course I watched the night sky, whenever possible. Just 5° north of the equator, the night sky is simply amazing. We're used to see the northern sky, some travelled far enough to watch the southern sky. But here you've got both! If you like, you can observe the Magellan Clouds and the Andromeda Galaxy during one night. If you're lucky, you can see the Southern Cross and Polaris just by turning around. As we're south of the tropic of Cancer, the nights are pretty different from those in our climes. The morning and evening dawn is dramatically short. 20 minutes after sunset it is completely dark. And it stays dark for the next 12 hours - every night! If I say dark, I mean dark. The light pollution, that is permanently disturbiung in most european areas, is very low. So, looking up into the night skies means to see stars over and over.


With those impressions on my mind, the idea to build an observatory on some mountain top in the Bamenda outskirts was born. And here we are.

Currently the only thing existing is an idea about a suitable position and a 3D-Model. Within the next ten years I want to turn this vision into a real thing. Of course BAOC will be more than just an observatory. We'll have a number of universitities in our neighborhood and BAOC shall open an eye into the universe for students and teachers. Especially the institutes in Bamenda and Dschang will benefit from the observatory. But also primary and secondary schools will have the oportunity to learn astronomical basics at BAOC as well as the interested public. In Cameroon only a very few people have got access to telescopes. The interest in astronomy is accordingly low. We need to make a change for this people. And if an astrotourist will be knocking on our door, he'll also be welcome.

BAOC main purposes:
Astronomical and meteorological observations
Providing astronomical equipment and observation time to university students
Provide educational material, like scholarly literature, multimedia presentation etc.
Seminars and workshops about astronomy
Hosting astro tourists
When we're talking about Astonomy, BOAC is aiming to be be the place to go for anyone who's interested. BAOC shall have 4 guest rooms, a bahtroom and a living room with kitchenette.
The seminar room shall be equipped with flipcharts and pinboards as well as multimedia stuff, like projectors and widescreen monitor. On the groundfloor shall also be a workshop that enables us to carry out repairs on telescopes, mounts and other equipment.

Equipment? Let's talk about the astronomical specialities we wanna have here. Concerning telescopes I'm a big fan of the Newton type. As size really matters, I'm aiming to bring some useful but robust instruments to BAOC. Today, I have two 130 mm Newtonians from Celestron and Skywatcher and a 60 mm refractor from Meade. This is okay for light polluted Germany and those instruments could do much better jobs under clear african skies. To bring real Astronomy to Bamenda we need bigger telescopes. Here comes a list of suitable instruments:
A 305mm Orion N 305/1500 SkyQuest XT12i IntelliScope Dobson for solar system and deep sky viewing
A Bresser N 203/1000 Messier EXOS 2 GoTo for photographic purposes
A Bresser Messier AC 127L/1200 refractor for planetary tours
An iOptron AC 60/360 Solar 60 to observe our sun
Two 130 mm Newtons on goto mounts for this and that and whatsoever
My 60mm Meade Polaris refractor on EQ-2 mount for beginners
A PrimaLuceLab Radiotelescope Spider 230
A Shelyak Alpy 600 spectrograph for spectroscopic observations from near infrared to near UV
A least two DSLR's, equipped with telescope adapters
The building itself will be a real challenge. It has to be a 3 in 1 multipurpose house. A mixture between an observatory, a school and a hotel. A basic idea is to realize all planning and errection works with local companies from Bamenda. The solicitor, the acrchitects and the craftsman will be cameroonian. That's a fundamental gesture to make BAOC part of this city, to make it the peoples observatory.

This project will cost some money. We won't get the whole thing for a song! The basic funding will come out of selling my apartment in Germany. That may cover the buliding. But it needs external funding to buy the equipment. I decided to start a crowdfunding project as soon as possible supported by an image campaign. I'll also check out, if GTZ is willing to support this project.

BAOC 3D-Walkthrough and Image Presentation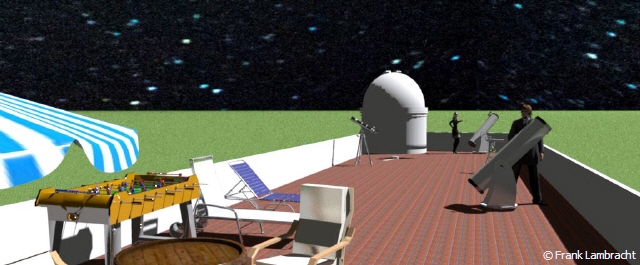 If you've got the 3D - Software SweetHome 3D on your computer, you can download the complete 3D model of BAOC here. Take a look inside or around and enjoy your tour.

SweetHome 3D [372.041 KB]

To get an idea about the motivation to start such a project, enjoy our PowerPoint - presentation, pls. The show runs automatically. You can stop it anytime by pressing the Esc - key.

BAOC image presentation [14.833 KB]

Furhter on here's is a short video trailer about our project:

BAOC -Trailer [55.831 KB]

If you like to know more about this project drop me a mail via this website, please. I'll answer as soon as I can. If you are supporter of BAOC, I'll send you login data to the protected area.


BAOC-People-Counter:
Visits today: 3 - overall: 1834.